Have you been struggling to build free high authority backlinks to your website or blog?
Are you tired of putting in hours of hard work on your blog posts only to see little to no organic traffic?
Have you followed all the guru advice about keyword research, on-page optimization and even linked to your own blog posts, but you're still not seeing the results you want?
Well, I have some good news for you. There's actually a proven way of getting high-quality backlinks free from high domain sites. This is a secret strategy that many of the much established online marketers utilize to boost their blog's SEO and drive more organic traffic to their offers.
As I've mentioned in another post, Google uses hundreds of factors when it comes to ranking websites. But of these factors, backlinks stand tall above the rest. They are critical if you want to improve your website's ranking on search engine results pages (SERPs). Unfortunately, building high-quality backlinks could be frustrating and overwhelming if you don't know what to do.
In this post, I'm going to show you how to get valuable high authority backlinks using the power of HARO.
Table of Contents
What Are High Authority Backlinks?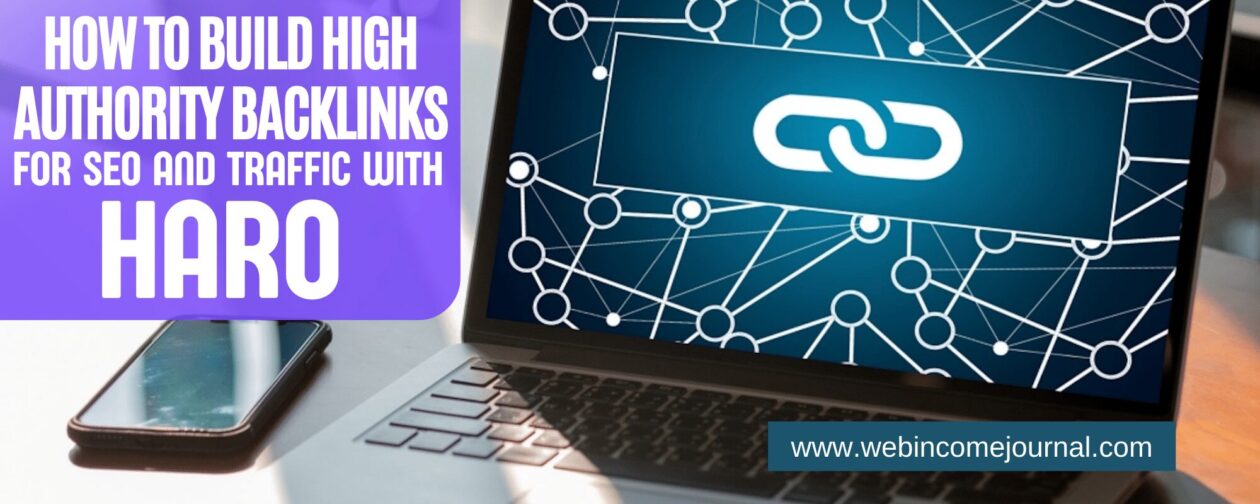 High authority backlinks are links that come from websites with high domain authority, such as news sites, educational institutions, or well-known brands. These websites are considered authoritative in their respective industries and are seen as trustworthy sources by search engines like Google.
As search engines crawl through different websites, they index backlink instances as direct recommendations from external web pages. However, not all link referrals bear the same weight, as the quality of the referral domain is a determining factor in the amount of influence each link has on search engine rankings.
In the SEO world, the term "quality" is defined as domain authority, which is determined by the level of establishment of a website in a particular field. The higher the domain authority score, the more established the website is, making it a high authority domain. This greatly impacts the influence it has on SERP rankings.
However, it's important to note that "Domain Authority" isn't an official PageRank metric. It is simply a measurement system used by third parties for determining the relevance and dominance of a website in the SERPs. The concept was developed by Moz, an SEO tool suite renowned for backlink analysis, rank tracking, site auditing, and keyword research.
Moz has a domain analysis tool where you can enter URLs to establish their domain authority scores on a scale of 0 to 100. The assessment is based on web parameters like link profile, organic traffic, linking root domains, nofollow links, dofollow backlink profile, social media shares, domain age, spammy links, and ranking keywords.
High authority domains typically have a score of 70 and above, but the scale is not absolute, as the authority weighting system varies from one industry to another.
Recommended: 9 Google Ranking Factors for SEO Dominance in 2023
Examples of High Authority Backlinks
Here are some examples of high authority backlinks:
1. Government websites
Links from government websites can be extremely valuable, as they are considered highly trustworthy and authoritative. For example, a backlink from a government agency such as the Centers for Disease Control and Prevention (CDC) can be very beneficial for a healthcare-related website.
2. Educational websites
Links from educational institutions such as universities or colleges can also be valuable, as they are considered authoritative sources of information. For example, a backlink from Harvard University can help to establish your website as a reputable source of knowledge.
3. News websites
Links from well-known news websites such as CNN, BBC, or The New York Times can be very valuable, as they have a large audience and are considered reputable sources of information. Backlinks from news websites can help to increase your website's visibility and credibility.
4. Industry-specific websites
Links from websites within your industry can also be valuable, as they are more likely to attract users who are interested in your content. For example, a backlink from a popular marketing blog can help to establish your website as a trusted resource within the marketing industry.
5. Social media websites
While social media links are typically "nofollow" links, meaning they do not directly impact your search engine rankings, they can still be valuable for driving traffic to your site and increasing your visibility. For example, a link to your website from a popular social media account within your industry can help to attract new users to your site.
Benefits of High Authority Backlinks
High authority backlinks can provide numerous benefits for your website. Below are some of these benefits:
1. Enhances your website's credibility
First and foremost, they signal to search engines that your content is of high quality and relevant to your target audience. The more high-quality backlinks you have pointing to your website, the more likely you are to rank higher in search engine results pages (SERPs).
2. Boosts your website authority
When you get a backlink from a high domain authority site, it can help increase the authority of your own website. This is because search engines see links from authoritative sites as a sign of credibility and trustworthiness, which can improve your overall reputation and authority.
3. Improves your SERP rankings
Backlinks and content are the two most important ranking factors that Google evaluates. The emphasis isn't on the number of external links, but rather on the quality of the links. Over time, it has been proven that the PageRank algorithm tends to favor backlinks from reputable sources.
For example, Backlinko.com analyzed of 11.8 million Google search results some time ago and the result showed that the top rankings correlate with the Moz/Ahrefs/SEMrush authority rating of their referral domains. This is a clear indication that backlinks from high domain authority sites can help improve your search engine ranking over time.
4. Increases Moz rank
Moz rank is a metric that measures the popularity and importance of a website based on the quality and quantity of links pointing to it. When you get backlinks from high domain authority sites, your Moz rank is likely to increase as well, which can further improve your overall reputation and visibility.
5. Improves Alexa rank
Just like the Moz rank, Alexa rank is a measure of the popularity of a website based on its traffic statistics. When you get backlinks from high domain authority sites, it can help improve your Alexa rank and make your website more visible to a wider audience.
6. Increases website trust flow and citation flow
Trust flow and citation flow are two metrics that measure the authority and credibility of a website based on the quality and quantity of links pointing to it. When you get backlinks from high domain authority sites, it can help improve both of these metrics and make your website more trustworthy and credible in the eyes of search engines and users.
7. Brings in more referral traffic
It is a confirmed fact that organic search accounts for about 53% of all trackable website traffic, paid search controls about 13%, while the rest comes from social media and third-party referrals. High authority backlinks are versatile enough to cover two of these bases at once. They'll will not only boost your SEO but bring in more quality referrals.
When a user clicks on a backlink to your website from a high-authority source, they are more likely to be engaged and interested in your content. This type of referral traffic can result in more conversions, such as newsletter sign-ups, product purchases, or social media shares.
8. Increases brand awareness and conversions
Finally, high authority backlinks can also help to build your brand and establish you as an expert in your field. When other websites link to your content, they are essentially endorsing your brand and promoting your expertise. This can help to improve your reputation, increase your visibility, and ultimately, drive more business to your site. The links don't have to be formatted as dofollow. Even nofollow backlinks can make a lasting impression on the many visitors who flock to high authority sites.
Recommended: 62 Best Free SEO Tools Every Digital Marketer Should Use
How to Get High Authority Backlinks Using HARO
So, how do you get high authority backlinks using HARO? This is our focus in this section. Let's first understand what HARO is.
What is HARO?
HARO, short for Help a Reporter Out, is a highly effective platform that connects journalists with reliable sources. It is one of the most powerful methods for building high-quality backlinks from reputable publications, such as GQ, Business Insider, and Vice.
Journalists use HARO to source expert opinions, quotes, and insights on a vast array of topics, making it an ideal opportunity for professionals seeking to establish themselves as thought leaders. As a member of HARO, you can sign up for daily or weekly email alerts based on your interests and areas of expertise, and easily network with other industry professionals.
How HARO Works and the Advantages
The HARO link building process is incredibly simple and efficient. The platform works by journalists posting queries related to their article's topic. These queries are sent out to a vast pool of potential sources, which includes individuals, businesses, and experts in various fields. Once a source responds to a journalist's query, they have the chance to be featured in the article with their insights or quote.
One significant advantage of HARO is the range of publications involved, from niche blogs to top-tier media outlets. This makes it a valuable tool for anyone looking to build high authority backlinks, regardless of their industry or niche. By participating in HARO, you can potentially earn valuable links that can help improve your website's search engine rankings and drive more traffic to your site.
Another advantage of using HARO is that it is a scalable way to build numerous high-quality backlinks to your website. As you provide valuable insights to journalists, they may link to your website as a reference. This can result in a snowball effect, with more journalists referencing your website, and ultimately driving more traffic and leads to your business.
Moreover, HARO is entirely free to use, making it a cost-effective way to increase your visibility and gain valuable backlinks. So, if you're looking for a reliable, authoritative way to enhance your online reputation and build your authority, HARO is a must-try platform that can take your professional career to the next level.
Steps on How to Build High Authority Backlinks with HARO
Step 1: Sign up for a HARO account
The first step is to sign up for a HARO account as a source. To do this go to the HARO website at https://www.helpareporter.com/. On the homepage, click on the "I'm a Source" This will take you to the sign-up page for sources.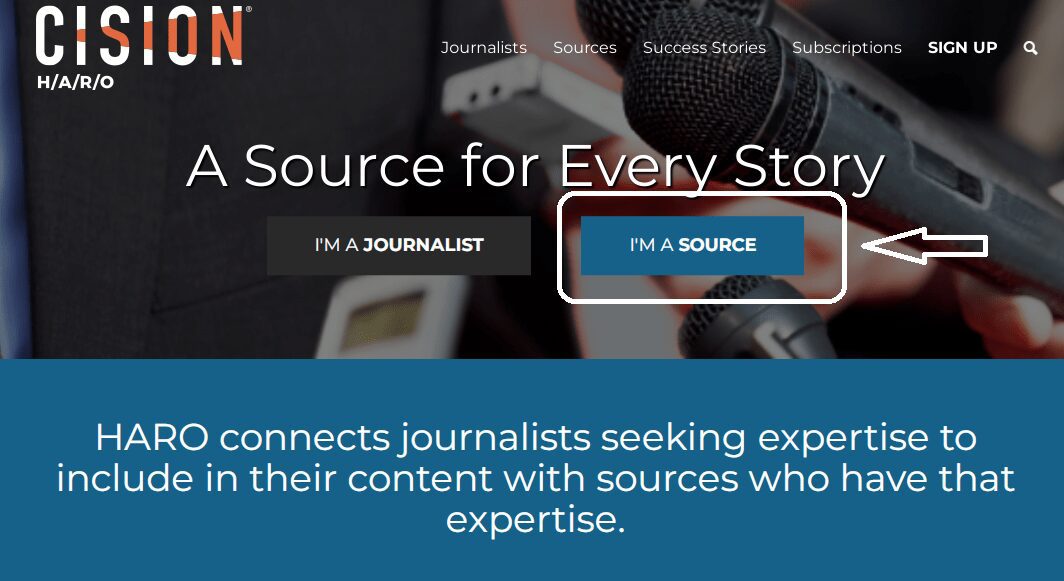 Fill out the required information to create your account, including your name, email address, and a password. You will also need to provide some information about your expertise and interests so that HARO can match you with relevant queries.
Once you have filled out the required information, HARO will send you a confirmation email. Click on the link in the email to confirm your account.
Step 2: Set up your preferences
After confirming your email, you will be directed to the HARO dashboard. Here, you can set up your preferences for the types of queries you want to receive. You can select the categories that match your expertise, the frequency of emails, and the time of day you want to receive them.
Step 3: Monitor the emails for relevant queries
Once you have set up your preferences, you will start receiving daily emails with queries from journalists and bloggers.  The emails will contain several queries from journalists seeking expert opinions on various topics. It's crucial to scan the emails regularly and pick out queries that align with your expertise or business.
Step 4: Respond to queries
When you see a query that matches your expertise, respond with a thoughtful and informative answer. Craft a pitch that demonstrates your expertise and provides value to the journalist. Keep in mind that the journalist is looking for expert opinions and insights that add value to their story. Your pitch should therefore, be informative and relevant to the topic at hand. Make sure you include a brief bio and a link to your website, which helps the journalist verify your credentials.
Here's a sample pitch for a relevant HARO query:
Subject: Expert on Digital Marketing Strategies for E-commerce Businesses
Hi [Journalist's Name],
I saw your HARO query looking for experts on digital marketing strategies for e-commerce businesses and I think I can provide some valuable insights on this topic.
As the founder of a successful e-commerce business myself, I've developed and implemented various digital marketing strategies that have helped to drive traffic and increase sales. In particular, I specialize in email marketing, social media advertising, and search engine optimization.
One example of a successful digital marketing campaign I implemented was a Facebook Ads campaign that targeted lookalike audiences based on our existing customer base. This campaign resulted in a 30% increase in sales within the first month.
I'd be happy to provide more insights and tips on how e-commerce businesses can effectively leverage digital marketing strategies to drive growth and increase revenue. Please let me know if you're interested in featuring me in your story and I'd be happy to provide more information and a brief bio.
Thank you for considering my expertise.
Best regards,
[Your Name]
[Your Website]
Step 5: Follow up
If you don't hear back from the journalist after sending your pitch, it's okay to follow up after a few days to check if they received your pitch and if they need any additional information. This is an excellent opportunity to reinforce your pitch and provide additional details that the journalist may find helpful. However, it's important not to be too pushy or aggressive in your follow-up emails, as this can harm your chances of getting featured.
Step 6: Get featured in the story
If the journalist likes your pitch, they may feature you in their story and include a link to your website. This link will be a high authority backlink, which can significantly improve your website's search engine rankings and visibility. Once you are featured, make sure to thank the journalist and share the story on your social media platforms to maximize its reach.
Tips for Responding to HARO Queries Effectively
When responding to HARO queries, it's essential to keep in mind that journalists and bloggers receive numerous responses to their requests. Therefore, it's crucial to make your response stand out and provide value to the requester.
Here are some practical tips for responding to HARO queries effectively:
Read the query carefully: Make sure you read the request thoroughly and understand what the journalist or blogger is looking for. It's important to answer the questions asked and provide relevant information or insights related to the topic.
Be concise: Journalists and bloggers have limited time to go through all the responses they receive. Therefore, it's essential to keep your response brief and to the point. Make sure you convey your message in a clear and concise manner.
Provide value: Make sure you provide value to the journalist or blogger in your response. Provide unique insights, data, or information that they might find valuable and relevant to their article.
Write well: Your response should be well-written, free of grammatical errors, and easy to read. Avoid using jargon or technical terms that might be confusing to the requester. A well-written response will demonstrate that you are professional and credible and increase the likelihood of being featured in the story.
Include a short bio and a link to your website or blog: It's a good idea to include a short bio that highlights your expertise and qualifications. This can also increase the likelihood of them including a backlink to your website, which is valuable for building your online presence and improving your search engine rankings. Make sure to keep your bio brief and relevant to the topic at hand and provide a link that takes the reader directly to your website or relevant page.
Personalize your response: Finally, it's a good idea to personalize your response to the journalist or blogger. This can be as simple as addressing them by name or referencing their previous work. Personalizing your response demonstrates that you have taken the time to understand their needs and interests and can increase the likelihood of building a relationship with them for future opportunities.
Be responsive and available: Once you have sent your response, be responsive and available to the journalist or blogger if they have any follow-up questions or require further information. This will demonstrate that you are committed to providing valuable insights and are willing to collaborate with the journalist or blogger. Additionally, make sure to respond promptly to any requests for information or clarification, as delays can harm your chances of being featured in the story.
By following these tips, you can increase the likelihood of getting your response selected and securing a high authority backlink for your website or blog.
FAQs on High authority Backlinks
How Do I Find High Authority Domains?

There are various tools available that can help you identify high authority domains, such as Moz's Link Explorer, Ahrefs, and SEMrush. You can use these tools to analyze a domain's backlink profile and see its domain authority score.

How Do I Know If My Website Is High Authority?

Your website's authority can be determined by its domain authority score, which is calculated based on various factors such as the quality and quantity of its backlinks. You can use tools like Moz's Link Explorer or Ahrefs to check your website's domain authority score.

How Many Backlinks Do I Need To Rank?

There is no set number of backlinks required to rank, as the number of backlinks alone is not a guarantee of higher rankings. It's important to focus on building high-quality backlinks from authoritative sources that are relevant to your niche.

Which Domain Authority Is Best?

Domain authority is measured on a scale of 1-100, with higher scores indicating a stronger domain authority. A domain authority score of 50 or above is generally considered to be good, while a score of 70 or above is considered excellent.

What Are Examples Of Authority Sites?

Some examples of authority sites include Wikipedia, Forbes, Huffington Post, The New York Times, and CNN. These sites have a strong reputation, high traffic, and valuable content.

How Do You Know If A Source Is Authoritative?

You can assess the authority of a source by evaluating its credibility, reputation, and expertise. Look for sources that are well-known in your niche, have a strong reputation, and are trusted by others in the industry. Additionally, check the author's credentials and expertise to ensure they are qualified to speak on the topic.
Recommended: 15 Proven SEO Tools for Small Businesses That Will Help You Stay Ahead Of the Competition!
Conclusion
There you have it, the simple strategy of getting high authority backlinks with HARO.
This of course, is just one tool in your backlink acquisition arsenal. While it can be highly effective in securing high authority backlinks, it's always a good idea to diversify your approach and use a combination of different strategies like guest blogging, broken link building, creating sharable content, etc. By combining these strategies, you can earn high authority backlinks that will help boost your search engine rankings and drive traffic to your website.
Would you care to share with us the strategies you are using right now to build high authority backlinks? And, if you're any in the future, do share with us in your comments below.