Are you thinking of setting up your business website? Are you confused about the web hosting service to choose?
In your confusion are you asking questions like, how do I choose web hosting for my website or, what makes a good website host?
If you answer yes to any of the above questions, then I've got you covered. In this blog post I want to share with you some insider tips on how to choose the right webhosting service, whether it is for your business website or personal blog. The insights I'm sharing here today are from my personal experience of over ten years, during which time I've hosted different websites using about six different web hosting companies.
You see, web hosting is never a glamorous topic when it comes to doing business online. It is one of those few things you must get right if you are going to succeed with your online business. I say this from experience. The web hosting provider you choose could make or mar your business. If you choose the wrong webhost you could end up wasting more time and money than you ever wished for.
To choose the right web hosting service it's important that you know what you are looking for. In this article I'm sharing with you the key things you should look for if you want to pick the right web hosting service, whether you're starting a personal blog or launching a full-fledged eCommerce website.
What Is the Purpose of a Web Hosting Service?
But before we dive right in and discuss how you can choose the right web hosting service for your business let's first consider the purpose of a web hosting service.
When you create a website and the content are stored on your computer no one will be able to access them except you. So, you need a place to store the content so that users all over the world can access them online. This is what a web host does for you.
A web hosting service provides the space, in their servers, to store your website data. Once you have created your website and the data have been uploaded to your webhost anyone anywhere in the world can visit your site by entering the url of your website into their web browser and they will be taken to your site.
Apart from providing a space to store your website's files and data, a web hosting provider also plays an important role in the site's security and performance. It is essential therefore to choose a web hosting company that offers an excellent uptime guarantee to prevent your site from experiencing too much downtime.
In the last 10+ years I have personally used a number of webhosting companies, both for myself and for clients. I will be telling you about some of them later in this article. My experiences with most of these web hosting companies is what actually inspired this post. So, carefully note what I'm sharing here.
Types of Web Hosting Services
One more thing I want you to understand, before we jump into the tips on choosing the right web hosting service, is the different types of web hosting services out there. You see, most times these different types determine the cost you pay for the hosting service. So, understanding the differences will help in a great way to make the right choice.
Basically, the following are the most common types of web hosting services:
Shared Hosting Service
With this type of hosting service, your website shares a single server with multiple other sites. Resources such as memory, bandwidth, and disk space are shared among all of the sites hosted on the server.
This type of web hosting service is the most affordable option amongst all the web hosting services. The drawback however, is that your website might experience issues (like slow loading or even crashing) if there is a spike in traffic on the other websites hosted on the server.
This is the best hosting for beginners. If you're just starting out you can start with this plan and then scale up as you go on. Most of the webhosting services make upgrading as seamless as possible.
Virtual Private Server (VPS) Hosting Service
With VPS hosting service your website, even though it still shares the same server with other websites it however has its own dedicated partition. This gives you the power to have some control over the resources that your website will be using. When you are on a VPS the allocated resources more stable and secure because you're not sharing them with anyone.
This type of web hosting service is ideal for medium-sized websites.
Cloud Hosting Service
Cloud hosting is the new entrant into the website hosting space. It aims to combine the capabilities of VPS hosting with the user-friendliness of shared hosting. With VPS hosting, your website shares the same server with other sites, just like in shared hosting. But the difference here is that the load on the website's resources is delegated to multiple servers using cloud technology. By doing this a cloud hosting service ensures that even if one server goes down, your website will not be adversely affected since the website can easily be hosted by another server.
Dedicated Hosting
As the name suggest, dedicated hosting gives you the most control over the server because you're renting one exclusively. When you invest in a dedicated hosting service you can decide on how much resources to allocate, what software to install, and what security measures to implement.
This type of hosting service requires a lot of technical knowhow. To effectively implement it, the services of a professional will be needed for server maintenance and management. This is why this hosting plan is mostly geared towards large enterprises that need maximum performance for large-scale projects.
WordPress Hosting
Though WordPress can technically be hosted on any type of web host, but with the growing popularity the WordPress software, a lot of webhost have introduced, recent in times, a dedicated type of hosting specifically for WordPress. The general belief is that with WordPress hosting, you can get faster and more secure performance
For me personally, I don't see much of a difference in this type of hosting because most of the services that the web hosting services charge for here can actually be performed by you when you are using any of the other types of hosting services. Because of this, in my 10+ years of hosting experience, I've never used this type of hosting even though I have only used the WordPress software during this period.
The above notwithstanding, if you'd rather want the web hosting provider to take care of any updates and technical adjustments for you without you doing anything, then this type of webhost is for you. And, you'll also get hands-on support for WordPress-related issues.
Reommended: 12 Top Web Hosting Affiliate Programs Guaranteed to Boost Your Income
How to Choose a Webhost for Your Business Site
Now, let's get to the crux of this article and answer the question, how do I choose web hosting for my website and what makes a good website host?
From what you have learned so far, it's clear that you cannot do this based just on the cost. In the last few years a lot of cheap and low cost hosting companies, mainly promoted by internet marketers, have sprang up. These hosting services are great with their sales copies featuring a lot of awesome testimonials from other internet marketers (who are nothing but their partners and affiliates). Stay away from them.
Again, let me say these suggestions are from my personal experience. Feel free to use or discard them based on your needs. But if you decide to use these suggestions I can assure you that you will not regret doing so.
Alright, here are the factors to consider when choosing a web hosting service for your business: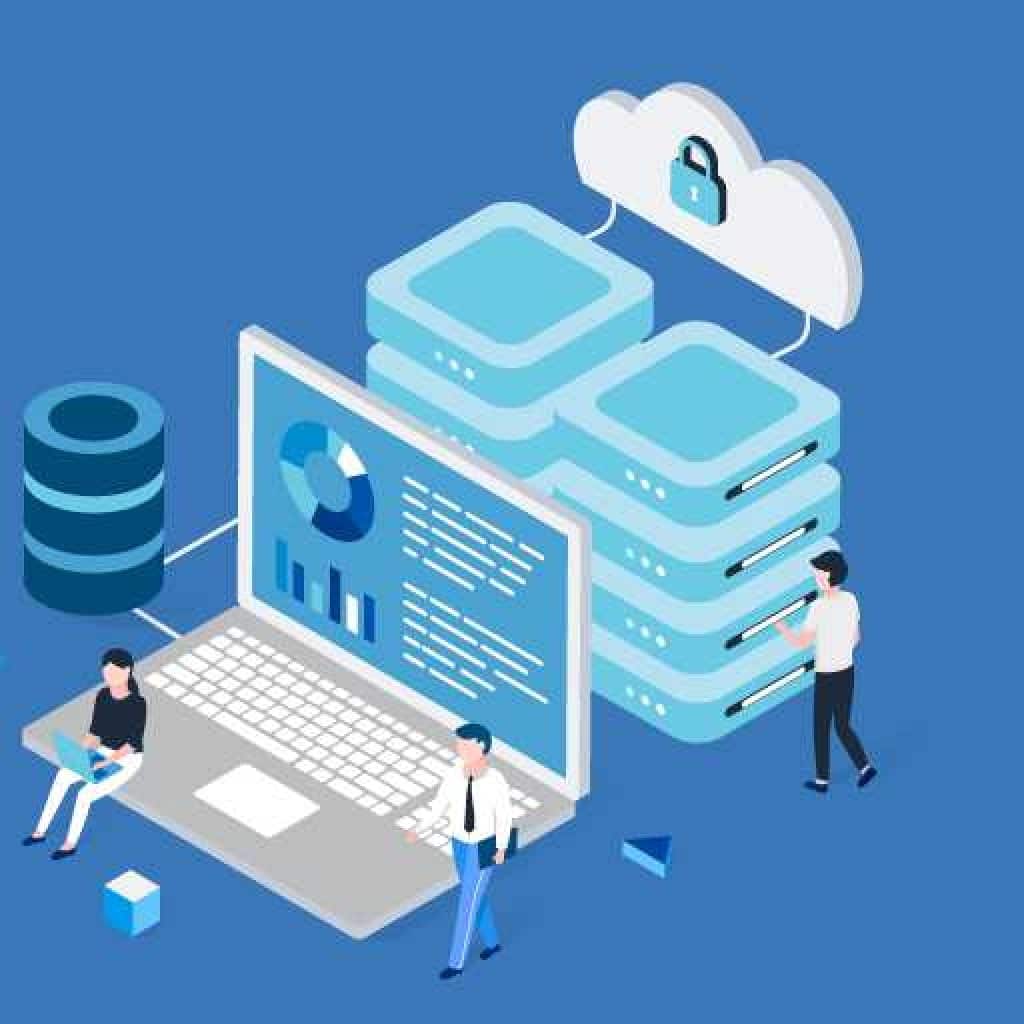 Storage and Bandwidth
This is one of the first things you should look out for. As you have learned earlier, your business website needs the right amount of server space to work properly. The storage space allocated to you within the hosting server will determine the amount of website files and data that you will be able to store on it. If you don't have enough, you will see a lot of website downtimes and this could lead to lose of valuable sales opportunities.
Of course, when you're just starting out it could be tricky to estimate the amount of space you need. The simple way you can decide on this is to determine the type of content you will be putting on your site. For example, if you will be posting a lot of images and videos then you will need a lot of space because these type of content requires a lot of website space as they easily accumulate in size over time.
Bandwidth, on the other hand, is the data transfer limit the hosting service places on your website within a period of time, typically every month. The bandwidth allocated is largely dependent on how much traffic you'll get. Basically, the bandwidth could be metered or unmetered.
If the bandwidth is metered bandwidth it means a monthly limit is set on how much traffic your website can generate. Once that limit is exceeded, your site might crash and visitors wouldn't be able to access it. However with the unmetered bandwidth the usage limit is only set on the server's capacity covered in the plan.
To avoid unnecessary issues with your website you should pick a hosting service that offers enough space and unmetered bandwidth. Because you might not be able to easily determine the space and bandwidth your website needs when you're just starting out, it's important that you choose a hosting service that is scalable so that you can increase or decrease your server space as your visitors rise and fall.
Hosting Features
At first glance nearly all the most popular webhosting companies appear to be alike. But the truth is when you look carefully you will discover a few things that set them apart. Before you choose a web host for your business you may want to check carefully for the following essential features.
Email Hosting – As a business you definitely want to host your email, e.g. sales@yourdomain.com or admin@yourdomain.com, on your own website. This makes you look more professional than some free email like admin@yahoo.com. It's important that you check to be sure that your hosting account comes with this ability.
Multiple Addon Domains – I personally host a lot of websites. This being so, I've always opted for hosting services that offer multiple addon domains. If you're thinking of hosting more domains in the near future, it is important that you check for this feature before you make your purchase.
Built-in One-click Installer – In setting up your website you may need to install some web applications like WordPress, Joomla, Drupal, etc. Most webhosts come packaged with One-click Installers like Softalucous. So check if the hosting service has an in-built one-click installer. This will make your life easier.
Free Site Migration Support – If you already have your website hosted on some other host and you want to move it to another host it is very important that you check out for this feature. This will allow you to transfer your website to the new host for free.
Security
This is another critical issue you should consider when choosing a web hosting service. With the increase of cyber-attacks these days website security has become a serious issue. If your website is compromised in any way, not only your business will suffer, you could be liable for damages, if your visitors' computers are affected.
Carefully study the security measures that the web host implements. These measures should include things like multiple layers of firewalls to protect against DDoS attacks, encryption methods, and a way to detect malware. There should be regular site-level backups and automatic software update to prevent possible loss of data and other vulnerabilities from outdated software.
On site backups, some of the things you may want to look out for are:
How regularly does web host provide full backups?
Can you manually backup your site via the control panel?
Can you easily restore your backup files by yourself when the need arise?
Another area of website security you should think of is SSL – Secure Socket Layer – protocol. If your website does not have an SSL certificate it could be flagged as insecure by Google and other search engines and this could affect your business. Having an SSL certificate also gives your site visitors the confidence that your website is safe to enter.
Ease of Setup and Use
Whether you'll be managing your website yourself or you'll be getting a hired hand to do it, one thing that will make things easy for you is the kind of user interface the hosting provider offers. Traditionally most of the web hosting providers come with cPanel, which is a very popular control panel brand. These days however, a lot of the providers now use proprietary control panels that can differ in functionality.
Check to know what type of control panel the hosting service offers and how easy it is to use. The control panel should be easy enough to do any task – whether it is managing your domain names and hosting, or installing software and taking care of your files.
Apart from the ease of use of the control panel there should also be enough information to help you get started. The web host should provide enough tutorials for their users. This way if you encounter any issue you can easily access their tutorials or contact their Help Center page.
Customer Support
The responsiveness of the customer support is another thing you'd want to consider when choosing a webhosting service. There should be a 24/7 reliable support system. This should include multiple options like phone, live chat, and email support.
Check to see that the support system is not only available during office hours. This is very important because if the customer support is not responsive enough it could cause a lot issues. For example, if your website goes down at 6 pm because of a technical issue or because you're experiencing a malicious attack and you're not able to get to your hosting provider to take action until the next morning, you would have lost well over half a day. This is not good for your business because for every minute your website is offline you're losing visitors and sales.
Speed and Optimization
Speed is crucial when it comes to website marketing. Whether it is for SEO or overall user experience, website loading time matters a lot.
One of the things that affects a website loading time is server speed. If your website is hosted on a server that is too slow it will impact on your website's performance. Before you pick a webhosting provider check online for independent reviews of that provider. The main two factors you should look out for are:
Time to first byte (TTFB) – This is the time it takes the browser to send a request and receive the first byte of the page. Google states that the ideal estimate is 200 milliseconds or less.
Component loading time – This measures how long a server loads cached content. If the data is already cached, the server shouldn't take longer than a few milliseconds to distribute it across the page.
Take note that most of these reviews are affiliate reviews and may be influenced in some way. Do yourself some good by reading different reviews from different sources before making a decision.
Still on site speed you'd want to check where your host's data centers are located. The closer the servers are to your audience, the faster your pages will load for visitors. Some hosting providers offer multiple server locations and you'll be able to choose among these multiple locations depending on your audience's primary location.
You may also want to consider a hosting service that gives you access to a CDN (content delivery network) such as Cloudflare. A CDN stores a cached copy of your site on servers around the world so that visitors from anywhere can experience fast page loading.
Price and Customer Feedback
While I have mentioned above that price shouldn't determine your choice you might want to compare prices of different hosting providers before you make your choice, especially if you are on a budget. Truth is, these days most of the popular web hosting services all provide nearly the same features, in varying degrees. With this in mind, you can make a list of potential hosting services and then compare their prices.
A few things you must be careful of here are:
Be careful of the payment plan. You'll notice that most of the services offer a low-entry price, especially for the first year but subsequent renewal might be on the high side.
Some of the services may package in some features which might be free for the first year but you have to pay for them in subsequent years. For example, some of the hosting companies offer free SSL certificate for the first year but you will have pay for the renewal in subsequent years. And, because SSL certificates are not cheap your renewal cost might just be something you never expected.
If you shop around you will notice that there are some webhosting services that offer free SSL certificate for as long as you host with them. While the initial cost of this type of hosts might be a little higher than the first type, you will notice that this type is actually cheaper on the long run.
Again, be careful to observe that while some webhost offer free SSL certificate for life, that free offer is only for one domain name hosted on your account. If you are going to host another domain name on the same webhosting account you will need to buy an SSL certificate for the extra domain name.
But then, there are others that offer free SSL certificate for all your domain names as long as they are hosted on the account. When compared with the first group you will discover that this second group are actually cheaper than the first, even if their initial cost are the same. This is very important if you're going to host a lot of websites, like some of us do!
You may also want to look at online feedback from others who have used these hosting services. There's so much you can learn from the experiences of other users. Carefully read these feedback and compare with what the hosting provider says on their website. This will give you an indication of whether it's as good as they will make it appear.
Wrapping Up: Which Factor Is the Most Important When Choosing a Web Hosting Service?
At this point you might be wondering already, so, which of these factors is the most important when I'm choosing a hosting service?
The truth is every website is built to serve a specific purpose and because I don't know the purpose for your website, I will not be able to answer that question. However, with what I've shared with you in this post I trust that choosing the web hosting service that is RIGHT for YOU shouldn't be a problem.
Having said that, I'll advise against a free web host if you plan on building a full-fledged e-commerce website. Again, if you're on a budget and you're just starting out I wouldn't recommend expensive Managed WordPress Hosting.
The best option I will recommend in both scenario is, starting with a shared hosting plan. Below are some of the hosting services I do recommend having used them, both for my personal and clients sites.
DREAMHOST
HOSTGATOR
HOSTINGER
(Shared Unlimited)
(Baby Plan)
(Premium Shared)
1st Year
Renewal
$2.59/mo
$10.99/mo
$3.50/mo
$11.99/mo
$2.99/mo
$6.99/mo
Free Domain?
Renewal (.com)
Yes
$19.99
Yes
$22
Yes
$13.99
Free SSL Cert.?
Renewal
Yes
Free
Yes
Free
Yes
Free
Bandwidth
Disk Space
Unmetered
50GB
Unmetered
NA
Unmetered
100GB
Number of sites
Unlimited
Unlimited
Unlimited
Automatic Backups?
Daily
NA
Weekly
1st yr. Cost
Renewal Cost
$31.08
$131.88
$42
$143.40
$35.88
$83.88
Renewal Cost + Domain
$149.87
$165.40
$97.87
Click to visit
DreamHost.com
Click to visit
HostGator.com
Click to visit
Hostinger.com
There you have it my tips on choosing the right web hosting service for your business. Hope you find it useful in your quest to finding a reliable web host.
So, what are thoughts on finding the right web hosting service for your business? Share them with us in the comments below.