Do you struggle with grammar issues in your writing? Have you been wondering if QuillBot Grammar Checker can be of any help?
Then you're in the right place.
As a blogger and content creator for over 8 years, I understand the frustration of grappling with grammar woes and the desire to make a lasting impression with your content.
I've experienced, time and again, that sinking feeling of spending an average of two to three days writing, editing, and correcting my blog posts only to discover hours or days after publishing, that there are numerous grammar errors and other mistakes here and there.
Of course, sometimes these mistakes are minor, in which case I simply ignore them. However, most of the time, they are major grammatical errors that cannot be ignored. Meaning I had no option but to make corrections to the already-published post.
I'm sure you understand that in a world like the highly competitive landscape of digital marketing, where polished prose and impeccable grammar can make or break your message, there are things you cannot take for granted!
This has always been a struggle until I decided to explore AI-powered writing tools like QuillBot. For about a year now, I have been using QuillBot's Grammar Checker, and I must confess that this tool has revolutionized my writing!
In this article, I want to share with you how QuillBot Grammar Checker can help you improve your writing skills. By the end of this article, you'll uncover the benefits of using QuillBot for grammar checking and editing and how you can elevate your writing skills with this tool.
It doesn't matter whether you're a seasoned writer or you're just starting out, this tool is your secret weapon for impeccable writing and making a lasting impression with your content.
So, if you're still wondering if QuillBot Grammar Checker is truly the writing savior you need or it's a cleverly disguised scam, then let's dive right in and discover how QuillBot Grammar Checker can elevate your writing to new heights!
Related: How to Harness the Power of AI Marketing for Small Business Success
Table of Contents
What Is QuillBot Grammar Checker?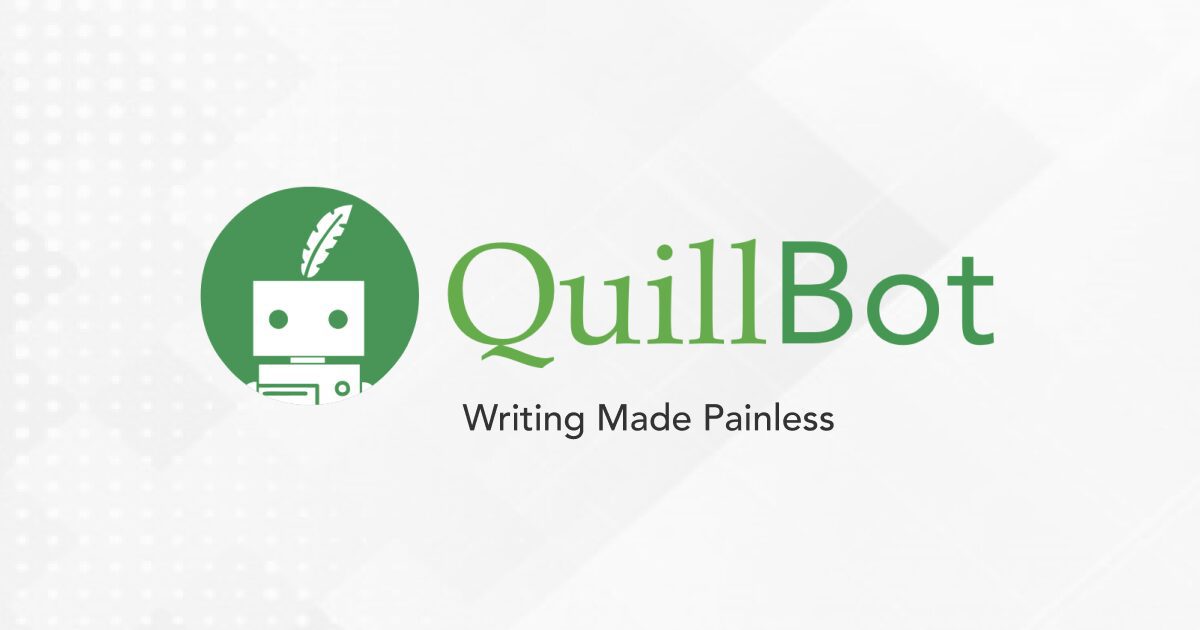 QuillBot Grammar Checker is an AI-powered writing tool that helps writers improve their writing skills by detecting and correcting grammar, spelling, and punctuation errors.
QuillBot's grammar checker can detect and fix common grammar errors such as subject-verb agreement, comma separation, and run-on sentences. It can also identify and correct spelling and punctuation mistakes.
It is a useful tool for increasing writing fluency and clarity because it considers grammar, sentence structure, and context. But this is not just some run-of-the mill basic grammar checker. Beyond the grammar checker, it also includes a paraphrasing tool and citation management.
This is why writers from various backgrounds, from students and professionals to content creators and researchers, who are looking to improve their writing skills, consider it to be their first choice.
How Does QuillBot's Grammar Checker Work?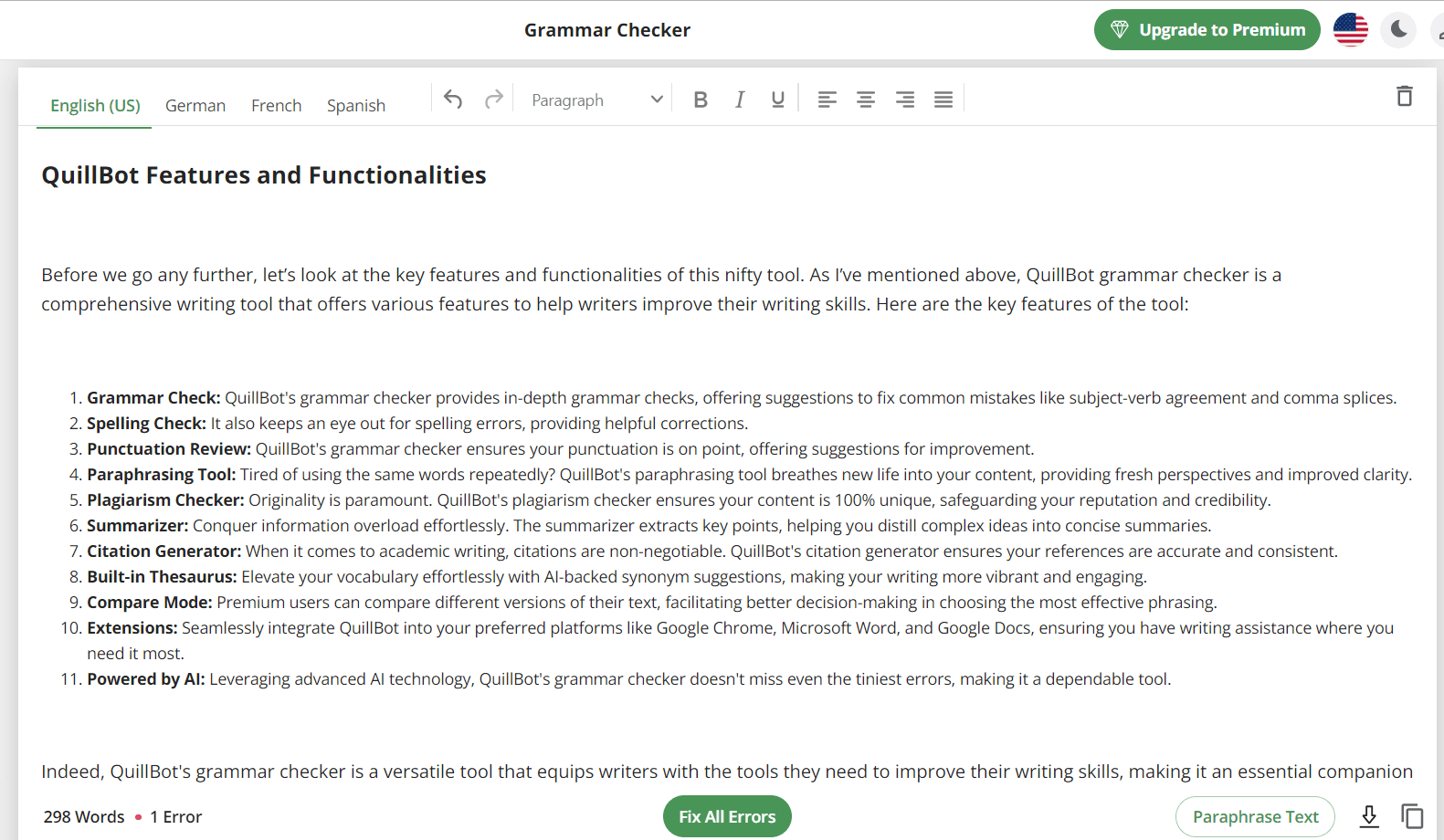 QuillBot's Grammar Checker uses Artificial Intelligence (AI) and Natural Language Processing (NLP) to identify grammar, spelling, and punctuation errors in text and then fix them. It works by analyzing text and comparing it to a large database of grammatical rules and language patterns to identify errors. If errors are detected, they are marked and solutions suggested.
Basically, here's how QuillBot's grammar checker works:
Enter Your Text: To begin, you can either paste or type your text into the QuillBot's text editor.
Grammar Check-Up: QuillBot's grammar checker employs smart technology called Natural Language Processing (NLP) to scrutinize your text for various grammar and punctuation slip-ups.
Spotting Errors: This nifty tool spots errors such as problems with subject-verb agreements, wrong verb tenses, sentence bits, overly long sentences, punctuation hiccups, and more.
Suggestions and Fixes: Once the errors are found, QuillBot offers suggestions and fixes to boost your text's grammar and readability.
Sentence Makeover: QuillBot isn't just limited to spotting errors; it can even rephrase whole sentences or phrases to make them shorter or clearer, depending on what you prefer.
Style Tips: Beyond grammar, QuillBot might also suggest ways to enhance your writing style. This could mean encouraging you to steer clear of passive voice or make your sentences more engaging.
QuillBot Features and Functionalities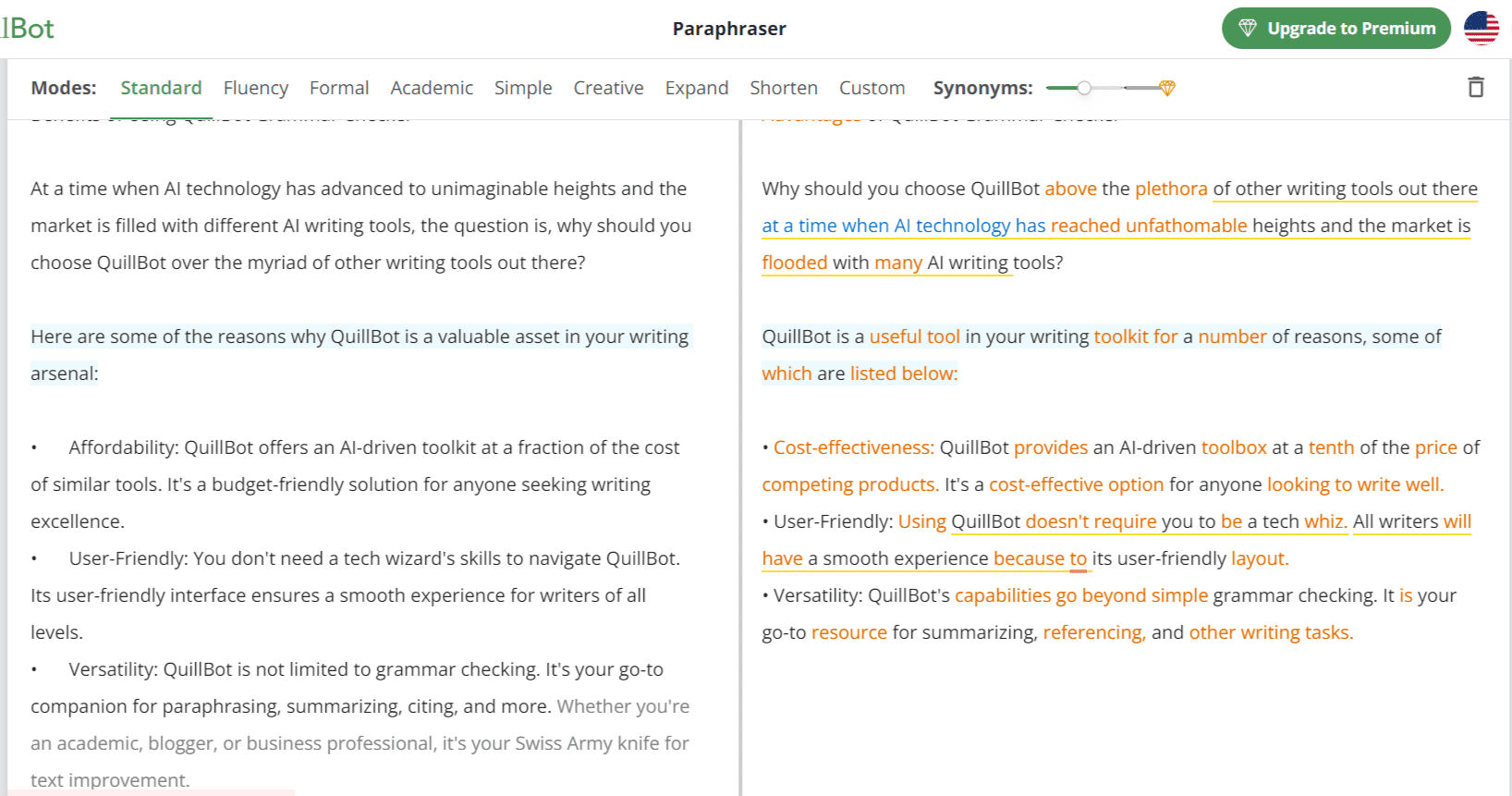 Before we go any further, let's look at the key features and functionalities of this nifty tool. As I've mentioned earlier, QuillBot grammar checker is a comprehensive writing tool that offers various features to help writers improve their writing skills.
Here are the key features of the tool:
Grammar Check: QuillBot's grammar checker provides in-depth grammar checks, offering suggestions to fix common mistakes like subject-verb agreement and comma splices.
Spelling Check: It also keeps an eye out for spelling errors, providing helpful corrections.
Punctuation Review: QuillBot's grammar checker ensures your punctuation is on point, offering suggestions for improvement.
Paraphrasing Tool: Tired of using the same words repeatedly? QuillBot's paraphrasing tool breathes new life into your content, providing fresh perspectives and improved clarity.
Plagiarism Checker: Originality is paramount. QuillBot's plagiarism checker ensures your content is 100% unique, safeguarding your reputation and credibility.
Summarizer: Conquer information overload effortlessly. The summarizer extracts key points, helping you distill complex ideas into concise summaries.
Citation Generator: When it comes to academic writing, citations are non-negotiable. QuillBot's citation generator ensures your references are accurate and consistent.
Built-in Thesaurus: Elevate your vocabulary effortlessly with AI-backed synonym suggestions, making your writing more vibrant and engaging.
Compare Mode: Premium users can compare different versions of their text, facilitating better decision-making in choosing the most effective phrasing.
Extensions: Seamlessly integrate QuillBot into your preferred platforms like Google Chrome, Microsoft Word, and Google Docs, ensuring you have writing assistance where you need it most.
Powered by AI: Leveraging advanced AI technology, QuillBot's grammar checker doesn't miss even the tiniest errors, making it a dependable tool.
Many Languages: QuillBot isn't just for English writers; it supports multiple languages.
Easy Integration: You can use QuillBot directly on its website, or you can seamlessly integrate it into other writing tools like Microsoft Word or Google Docs using browser extensions or plugins.
Indeed, QuillBot's grammar checker is versatile, and it equips you with every tool you need to improve your writing skills. Once you start using it, you will find it an essential companion for any writing project.
Advantages of Using QuillBot's Grammar Checker
From what we have seen above, there's no doubt that QuillBot's grammar checker brings a range of features to the table. But how does that benefit you?
Here are some of the advantages of using this tool for checking and editing your writing:
Thorough Grammar Check: QuillBot's grammar checker examines your text for grammar and spelling errors and suggests corrections. It's skilled at catching common grammar problems like matching subjects with verbs, fixing comma splices, and dealing with run-on sentences.
Sentence Revamping: QuillBot's paraphrasing tool can assist in rephrasing sentences to make them more concise and captivating. This enhances the overall quality of your writing and adds a touch of uniqueness.
Plagiarism Detection: QuillBot's plagiarism checker helps ensure your writing is original and properly credited. This is especially handy for academic papers and any writing that demands correct citation.
Summarization Aid: The summarization tool condenses lengthy texts into shorter, more concise versions. It's great for creating article or research paper summaries.
Citation Management: QuillBot's citation management tool can effortlessly generate citations in various formats, such as APA, MLA, and Chicago. This saves time and ensures proper citation in your work.
Tailored Writing Styles: QuillBot's writing styles assist you in adapting your writing to your target audience, enhancing readability. It's particularly beneficial when you're writing for a specific audience or striving to enhance the overall quality of your work.
How to use QuillBot Grammar Checker
Let's now turn our attention to some practical ways of using the QuillBot grammar checker tool. I must say that this tool is designed to be user-friendly, so I will not be discussing how to create an account. In fact, you can access the tool and start using it without creating an account! It's that simple!
Here's how to start using QuillBot's grammar checker:
Access QuillBot: You can access QuillBot grammar checker by visiting their website or by installing the Chrome or Microsoft Word plugin. Please note that QuillBot offers both free and paid subscription plans. You can, however, use the grammar checker for free, but you will be limited to checking only 125 words at a time. If you want the limits to be removed, you will need to sign up for the paid version.
Upload or copy and paste text: Once you have accessed QuillBot, you can upload your text or copy and paste it into the text box. You can also use the Chrome or Microsoft Word plugin to check your writing as you type.
Use the grammar checker tool: QuillBot's grammar checker tool will automatically identify and highlight any grammar, spelling, or punctuation errors in your text. You can click on the highlighted text to see suggestions for improvement. QuillBot's grammar checker also offers various writing styles to choose from, allowing writers to tailor their writing to their audience.
Use the other editing tools: QuillBot's grammar checker includes a paraphrasing tool that can help writers rephrase their sentences to avoid plagiarism and improve readability. The citation management tool can help writers manage their citations and references, making it a useful tool for academic writing.
How to Improve Your Writing with QuillBot's Grammar Checker
Here are some tips for effectively using the QuillBot grammar checker tool so that it works well for you:
Get the Hang of It: Before you use QuillBot, take a bit of time to learn how it works. Get to know how it looks and what it can do.
Write or Copy-Paste: You can put your words into QuillBot by typing or just copying and pasting. It's easy to use, and you can also add it to your web browser.
Choose the Correct Mode:
QuillBot Rewrite: This one helps you say things in a different way, making your writing better.
QuillBot Fluency: Use this if you want your writing to flow smoothly.
QuillBot Suggests: It gives you advice on grammar and words.
Watch Your Grammar: If you want to fix grammar mistakes, go with the "QuillBot Suggest" mode. It spots errors and tells you how to fix them.
Be Picky About Suggestions: QuillBot gives you ideas on how to make your writing better. But you're the boss. You can say yes or no to its suggestions.
Think About What Fits: Remember, QuillBot doesn't know everything about what you're writing. If a suggestion doesn't feel right, trust yourself.
Learn as You Go: QuillBot can teach you. If it points out the same mistakes a lot, pay attention. It's like a writing coach.
Try Different Words: If you're using QuillBot Rewrite, try different sentences. See how it suggests changing them. It can help you express things in new ways.
Use a Thesaurus: QuillBot has a thesaurus inside. If you want fancier words or just want to change things up, use it.
Proofread Your Final Work: QuillBot can catch mistakes, but it's not perfect. Look over your writing one last time to make sure it's just how you want it.
Adjust the Settings: QuillBot lets you change things like how formal or casual your writing sounds. Make it fit your style.
Check for Copying: If you're worried about accidentally copying someone else's work, QuillBot has a tool for that too.
Keep Learning: If you keep making the same mistakes, pay attention to what QuillBot tells you. It can help you get better over time.
Stay Updated: QuillBot gets better too. So, keep an eye out for any new things it can do.
All in all, you should remember that while QuillBot can be a fantastic aid for refining your grammar and writing, no automated grammar checker is flawless. It's always smart to look over the suggestions offered by grammar checkers and use your own judgment to ensure that the changes fit the context and purpose of your writing.
If you apply these simple tips consistently, you'll be a better writer in no time!
Recommended: How to Use AI for SEO Optimization: A Comprehensive Guide
QuillBot vs. Other Grammar Checker Tools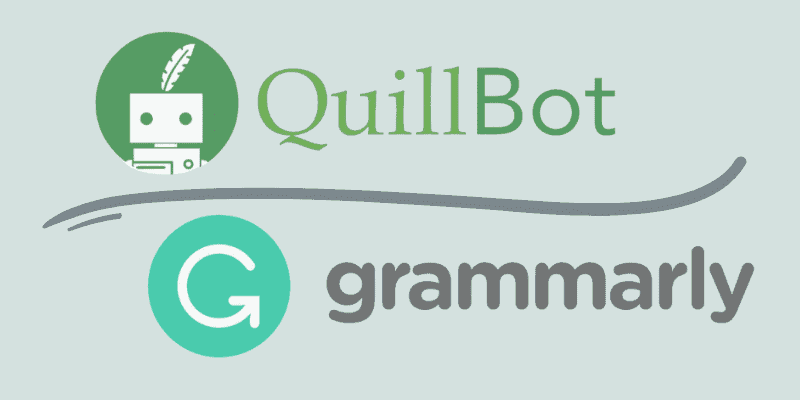 QuillBot is one of several grammar checker tools available online, and its effectiveness depends on your specific needs and preferences. To provide a meaningful comparison, let's discuss QuillBot in comparison to other popular grammar checker tools like Grammarly and ProWritingAid, a few of which I have also looked into in the last few months.
Grammar Checking Accuracy:

QuillBot: QuillBot's grammar checking capabilities are decent but may not be as comprehensive or accurate as some other tools. It can identify basic grammar errors and offer suggestions for improvement.
Grammarly: Grammarly is known for its accuracy in detecting grammar and punctuation errors. It provides detailed explanations for each suggestion and offers a wide range of writing improvements.
ProWritingAid: ProWritingAid is also highly accurate, offering in-depth grammar checking, style analysis, and readability suggestions.

Writing Style and Clarity:

QuillBot: QuillBot offers a "fluency" feature that helps to improve the overall readability of your writing. It can rephrase sentences for clarity and style.
Grammarly: Grammarly provides style and tone suggestions, helping you tailor your writing to specific audiences and purposes.
ProWritingAid: ProWritingAid offers style and readability analysis, which can be beneficial for refining your writing style.

Plagiarism Checker:

QuillBot: QuillBot does offer a built-in plagiarism checker, but it is only available in the premium version.
Grammarly: Grammarly Premium includes a plagiarism checker, which can be useful for students, writers, and professionals who want to ensure their content is original.
ProWritingAid: ProWritingAid also has a built-in plagiarism checker. However, compared to the others, it is extremely costly.

Ease of Use:

QuillBot: QuillBot has a user-friendly interface and is easy to navigate. It provides real-time suggestions as you type.
Grammarly: Grammarly offers a user-friendly web editor and browser extensions, making it accessible across various platforms.
ProWritingAid: ProWritingAid may have a steeper learning curve due to its extensive features, but it provides a comprehensive writing analysis.

Pricing:

QuillBot: QuillBot offers both free and paid versions. The paid version includes additional features and advanced grammar checking.
Grammarly: Grammarly offers both free and paid plans. The paid plan (Grammarly Premium) provides more advanced features, including style suggestions.
ProWritingAid: ProWritingAid also offers free and paid plans, with the paid version unlocking more features like plagiarism checking and style analysis.
Overall, QuillBot's grammar checker is a useful tool for writers, especially those who need a paraphrasing tool or citation management. Its AI-powered technology and various writing styles make it a unique option for writers looking to improve their writing skills.
However, if you're looking for a good QuillBot alternative, with more comprehensive grammar checking, style analysis, and plagiarism detection, then you may consider Grammarly or ProWritingAid. That being said, your choice will ultimately depend on your specific writing needs, budget, and personal preferences.
Related: 15 Best Free AI Content Generators of 2023 [Ideal if You're on a Budget]
Quillbot Pricing and Plans
So, how much does QuillBot cost?
QuillBot offers both a free plan and a premium plan with more features. The free plan offers basic grammar checking, spelling checking, and punctuation checking.
The premium plan, on the other hand, offers more advanced features, including paraphrasing, citation management, and more. QuillBot's premium plan is affordable and offers a 3-day money-back guarantee. The premium plan is available at three different price points.
Here's the breakdown of the pricing plans:
Monthly: $19.95 USD billed monthly
Semi-Annual: $13.33 USD per month. $79.95 billed every 6 months
Annual: $8.33 USD per month. $99.95 billed annually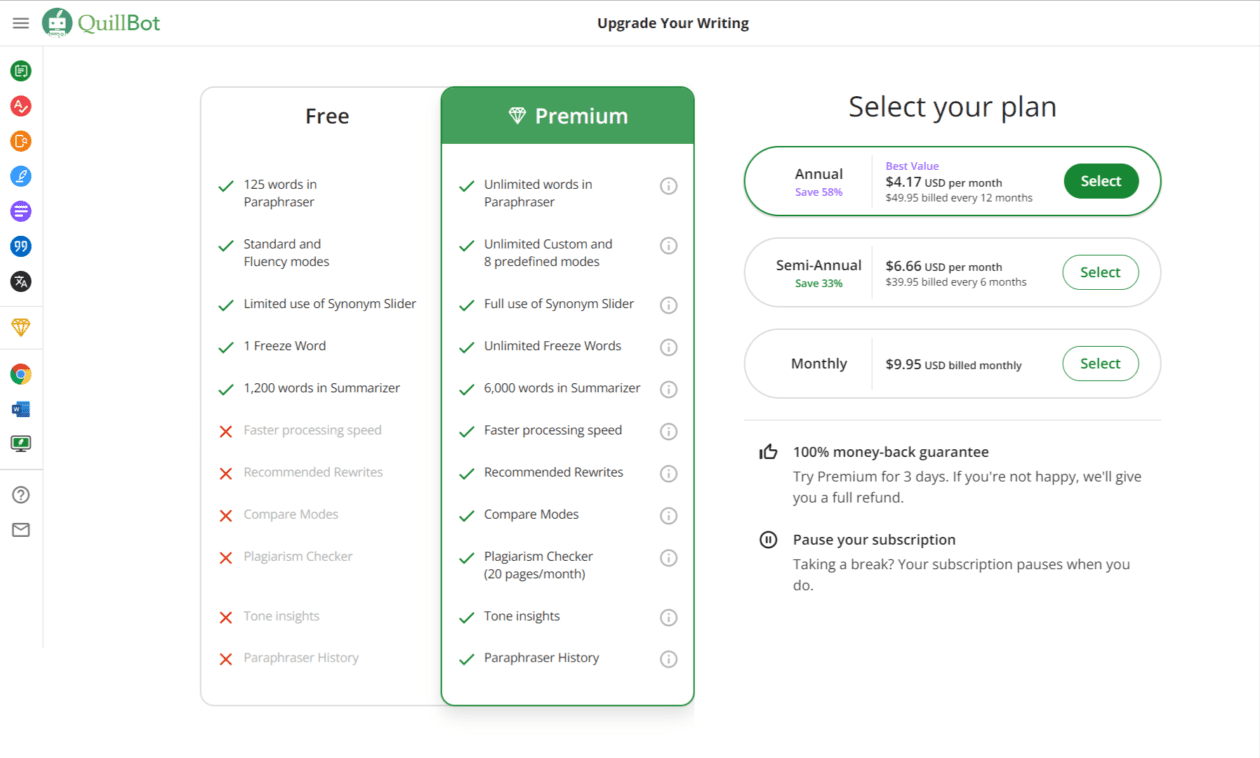 Please note that the features and pricing options may change from time to time, so you should visit QuillBot's website for the most current details.
Frequently Asked Questions (FAQs)
Can I use QuillBot for my own writing?
Absolutely! QuillBot is a versatile writing assistant that's perfect for all types of writing, whether it's professional documents, academic papers, creative content, or personal projects. It's designed to help writers of all levels improve their work.
Is Grammarly better than QuillBot?
Both Grammarly and QuillBot are excellent grammar checkers, but they have different strengths. Grammarly is known for its comprehensive proofreading and language enhancement features, while QuillBot excels in paraphrasing and rephrasing content. The choice depends on your specific writing needs.
Will I get caught for paraphrasing?
QuillBot's paraphrasing tool is designed to help you rewrite content more effectively and efficiently. However, it's essential to use it ethically and cite the source when necessary to avoid plagiarism issues.
Does QuillBot work without an internet connection?
QuillBot Grammar Checker primarily operates online. To use its features, you'll need an internet connection. However, there might be offline modes or downloadable versions available depending on the platform's development.
Can examiners detect QuillBot?
QuillBot is a tool designed to assist writers, not to deceive or cheat. If you use it responsibly to enhance your writing and avoid plagiarism, there should be no issues with examiners detecting its usage.
Is QuillBot grammar checker legit?
Yes, QuillBot Grammar Checker is a legitimate and reputable tool used by writers, students, professionals, and educators worldwide to improve their writing. It offers valuable suggestions to enhance grammar and sentence structure.
Can QuillBot paraphrasing be detected?
QuillBot's paraphrasing is designed to create original and coherent content. However, like any tool, it's essential to review the paraphrased text to ensure it aligns with your writing style and intent. Educators and plagiarism detectors may spot patterns of automated paraphrasing, so it's best to use it judiciously.
Do writers use QuillBot?
Yes, many writers, from bloggers and content creators to novelists and academics, use QuillBot to refine and optimize their writing. It's a valuable resource for improving grammar, style, and overall writing quality.
Final Thoughts
I have used QuillBot's grammar checker for about a year now, and during this period it has convincingly demonstrated its prowess as an exceptional grammar checker.
Beyond merely fixing errors in real-time, it also actively aids in your learning and improvement process. Its sophisticated AI technology is continuously evolving, rendering it a valuable ally for diverse users. It doesn't matter whether you're a seasoned writer, a student, an academic, or someone venturing into the world of freelance writing.
Besides, as an online content creator, you already know that when it comes to marketing online, content is king. This means the ability to produce impeccable writing is a powerful asset. This is another good reason why you definitely want to make Quillbot Grammar Checker your secret ally. It will help you achieve flawless, error-free writing that captivates your audience and establishes your authority.
What more? You also have the option to kickstart your journey with QuillBot's free version. This will allow you to test its suitability for your specific requirements. And, if at any time you desire to invest in its advanced features, upgrading to the premium version is straightforward.
So, why settle for mediocre writing when you can elevate your content to new heights?
Embrace the power of Quillbot Grammar Checker today and embark on a journey towards writing excellence. Now is the time to perfect your writing, engage your audience, and stand out in the digital landscape.
Over to you: Are you currently using QuillBot's grammar checker? We'll love to hear your take on this. Feel free to share your thoughts with us in the comments below