Are you looking for a good and reliable web hosting company? Wondering which type of hosting is best for your website? Then welcome to our Liquid Web reviews, where we take a deep dive into three of Liquid Web's most popular hosting options, namely, VPS, Dedicated Servers, and VMware hosting, plus some really great alternatives.
There's no denying the fact that every online business needs a robust web hosting solution to succeed. Unfortunately, the web hosting market is so flooded with different options that choosing the right one could be simply overwhelming!
In this post, we aim to unveil one of the top-notch hosting companies in the market today: Liquid Web Hosting. Liquid Web offers a range of hosting products tailored to different needs. However, in this blog post, we'll compare three of their popular hosting solutions: Virtual Private Servers (VPS), Dedicated Servers, and VMware.
There's no doubt that Liquid Web is one of the premium Cloud and VPS hosting companies out there. Unfortunately, its impressive features and exceptional performance, come at a premium price. Having this in mind, we'll also reveal some of the best alternatives to Liquid Web VPS.
We hope that by the end of this review, you'll have a clear picture of which hosting solution aligns best with your business needs, so you can make an informed decision.
So, if you're ready, let's dive right in!
Related: 12 Top Web Hosting Affiliate Programs Guaranteed to Boost Your Income
Table of Contents
DISCLOSURE: Some links on this post may be affiliate links. This means I'll receive a small commission if you buy anything using such links. There's however, no extra cost to you. Please do your own research before making any online purchase. Learn more here.
What is Liquid Web Hosting?
Liquid Web is a premier hosting provider that excels in managed dedicated server hosting, with shared hosting offered through its subsidiary, Nexcess. With a robust network of state-of-the-art data centers located in the US and Europe, Liquid Web is committed to delivering custom solutions that prioritize performance and security.
Liquid Web Hosting offerings include single- and dual-processor servers with a choice of fully managed, core-managed, or self-managed plans. Each server boasts at least 250 GB of high-performance solid-state drive storage, accompanied by a 1TB SATA drive for backups.
One of the standout features of Liquid Web Hosting is its generous allocation of RAM and bandwidth, which is far above many of its competitors. This ensures that customers enjoy a luxurious hosting environment optimized for speed and reliability. Apart from this, site owners have the flexibility to upgrade RAM and disk size as needed and can benefit from add-ons such as the cPanel Premier 100 control panel, advanced DDoS protection, and enhanced security measures.
Liquid Web's network is built with top-of-the-line Cisco equipment, designed to be redundantly robust, allowing routing devices to self-heal quickly in the event of system failures. This ensures uninterrupted customer connections and a seamless hosting experience.
Liquid Web also integrates premier providers, including Level 3, Verizon, Comcast, Cogent, and Equinix, which optimizes Liquid Web's network for rapid and fault-resistant performance. This strategic collaboration ensures that customers receive superior hosting services with minimal downtime and maximum reliability.
Liquid Web Hosting Plans: An Overview
While our focus in this Liquid Web Hosting review is on the VPS, Dedicated Server, and VMware hosting plans, let's take a moment to explore the key hosting plans provided by Liquid Web:
Managed VPS Hosting: Liquid Web's Managed VPS Hosting combines the benefits of virtualization with expert management. With the Liquid Web's Managed VPS Hosting businesses enjoy dedicated resources and full root access, coupled with the convenience of managed services, including server setup, security, and monitoring.
Dedicated Server Hosting: Liquid Web's Dedicated Server Hosting grants exclusive access to an entire physical server. With the freedom to customize hardware and software, businesses gain unparalleled control and performance for resource-intensive applications.
VMware Private Cloud Hosting: Liquid Web's VMware Private Cloud solution offers a private and scalable cloud environment, perfect for businesses requiring high-level customization and control.
WooCommerce Hosting: Designed specifically for online stores powered by WooCommerce, Liquid Web's WooCommerce Hosting optimizes performance, ensuring smooth and secure e-commerce experiences.
Managed WordPress Hosting: Liquid Web's Managed WordPress Hosting is tailored for WordPress websites, featuring automatic updates, performance optimization, and enhanced security.
Cloud Dedicated Servers Hosting: Liquid Web's Cloud Dedicated Servers combine the power of dedicated resources with the flexibility of cloud infrastructure, delivering an agile hosting solution.
Liquid Web Hosting Plans and Pricing
| | | |
| --- | --- | --- |
| Hosting Plan | Features | Pricing (Starting at) |
| Managed Dedicated Servers | Customizable hardware, choice of operating systems, managed hosting benefits, advanced security measures, DDoS protection, cPanel or Plesk control panels | $199/month* |
| Managed VPS Hosting | Full root access, SSD storage, Cloudflare CDN, built-in backups, DDoS protection, various Linux OS options | $25/month* |
| Managed WordPress | Automatic updates, performance optimization, iThemes Security Pro, automatic backups, developer-friendly tools | $21/month* |
| Cloud Dedicated | Cloud flexibility with dedicated resources, instant provisioning, easy scalability, fully managed service, DDoS protection | $510/month* |
| WooCommerce Hosting | Optimized for WooCommerce, automatic updates, performance optimization, iThemes Security Pro, automatic backups, developer-friendly tools | $21/month* |
* Note: These are starting prices and may vary based on specific configurations and additional features chosen.
Benefits of Liquid Web Hosting
The benefits of Liquid Web Hosting lie in the numerous unparalleled features that it boasts. These features are designed to empower businesses with cutting-edge technology and top-tier support that ensures businesses enjoy peak performance, enhanced security, and seamless operations.
Here are some of Liquid Web Hosting's most notable features that users find beneficial:
Blazing-Fast Performance: Liquid Web's hosting infrastructure is built on the foundation of speed and performance. With state-of-the-art data centers strategically located around the globe, users experience lightning-fast loading times, reducing bounce rates and keeping visitors engaged.
Robust Security: Cyber threats are ever-evolving, and Liquid Web takes security seriously. Advanced security measures, including DDoS protection, SSL certificates, and regular malware scans, safeguard your website and data from potential attacks.
Scalability: As your business grows, so will your hosting needs. Liquid Web offers scalable solutions that can seamlessly accommodate your increasing demands, ensuring your website maintains peak performance regardless of traffic spikes.
24/7/365 Support: Liquid Web's Heroic Support® team is always at your service, ready to assist with any hosting-related queries or issues. Their quick response times and technical expertise guarantee a seamless hosting experience.
Managed Hosting Benefits: Liquid Web takes managed hosting to the next level. From proactive monitoring and automatic backups to software updates and server optimization, their managed hosting solutions allow you to focus on your business while leaving the technical intricacies to the experts.
Customization: Liquid Web recognizes that every business has unique hosting requirements. With customizable dedicated servers and flexible hosting plans, businesses can tailor their hosting environment to align perfectly with their needs.
Recommended: How to Create an SEO-Friendly Website in 6 Proven Steps (A Comprehensive Guide)
Liquid Web Reviews: A Deep Dive
#1. Liquid Web Managed VPS Hosting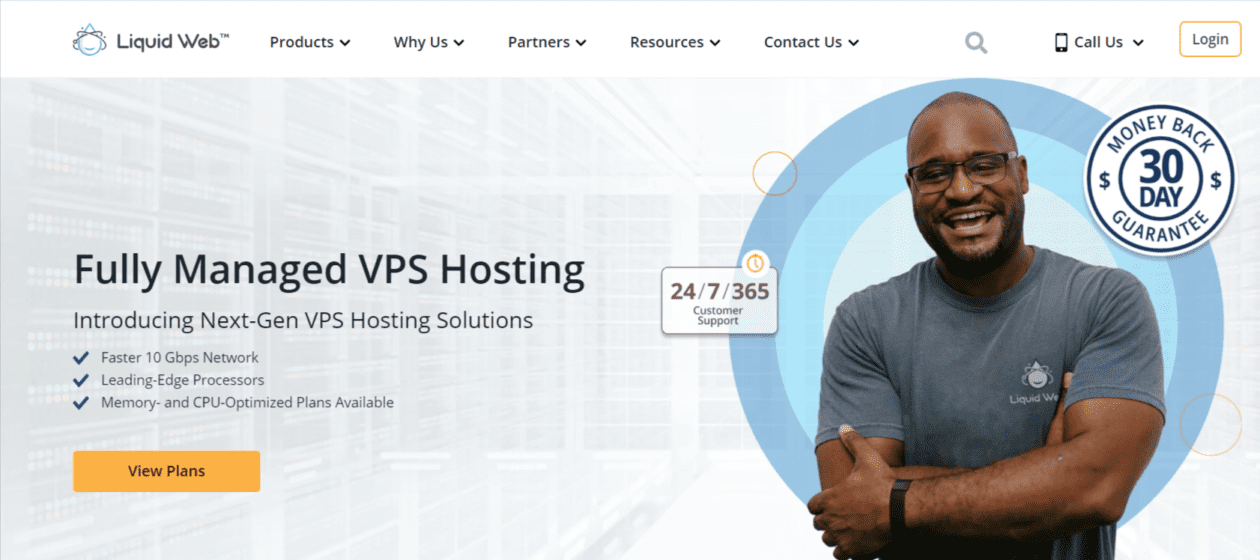 Virtual Private Servers, commonly known as VPS, are a middle-ground between shared hosting and dedicated servers. They provide businesses with the features and capabilities of dedicated servers, at an affordable cost.
When it comes to VPS hosting, Liquid Web shines as a leading provider, offering a feature-rich and reliable solution that caters to businesses of all sizes. Liquid Web's VPS hosting services are engineered to deliver the performance, security, and control businesses need to excel in the digital landscape.
One of the key selling points of Liquid Web's Managed VPS Hosting is the heroic support provided by their expert team. Customers can expect high uptime rates and reliable assistance from the Heroic Support® experts, ensuring a hassle-free hosting experience.
The managed VPS platform at Liquid Web is powered by high-powered SSDs, further enhancing the hosting performance. RAID-protected SSD storage not only decreases latency but also ensures fast and secure page loads, offering customers a seamless and enjoyable user experience.
Flexibility is at the core of Liquid Web's VPS infrastructure. Customers can effortlessly provision and deploy their virtual servers, and they have the freedom to easily upgrade, downgrade, clone, or resize as their needs evolve. This cloud-like flexibility allows businesses to scale effortlessly and adapt to changing demands in real time.
Moreover, Liquid Web's Managed VPS Hosting comes with a range of management plans, allowing customers to choose the level of infrastructural support that best suits their requirements. Whether they prefer a hands-free management approach or greater control through API access, Liquid Web accommodates diverse needs.
Additionally, customers benefit from free backups, CDN (Content Delivery Network), and DDoS protection, ensuring the utmost security and reliability.
Pros:
Performance: Liquid Web's high-performance VPS hosting ensures your website loads quickly, keeping visitors engaged and satisfied.
Security: Robust security measures, including DDoS protection and regular backups, safeguard your website and data from potential threats.
Flexibility: Liquid Web's VPS hosting is flexible and scalable, allowing you to adapt your hosting resources to match your business's evolving needs.
Support: With Liquid Web's Heroic Support® available 24/7/365, you have a team of experts at your disposal to address any hosting-related queries or issues promptly.
Cost-effective: Liquid Web's VPS hosting is usually more affordable than dedicated servers, making it an excellent choice for small to medium-sized businesses or websites on a budget.
Scalability: Liquid Web's VPS plans can be easily scaled up or down, allowing you to adjust resources based on your changing needs.
Isolation: With Liquid Web's VPS hosting, your site operates independently of other users on the same physical server, providing enhanced security and stability.
Cons:
Limited Resources: While VPS provides more resources than shared hosting, it still shares the server's hardware with other VPS instances, so there might be resource limitations during peak times.
#2. Liquid Web Dedicated Server Hosting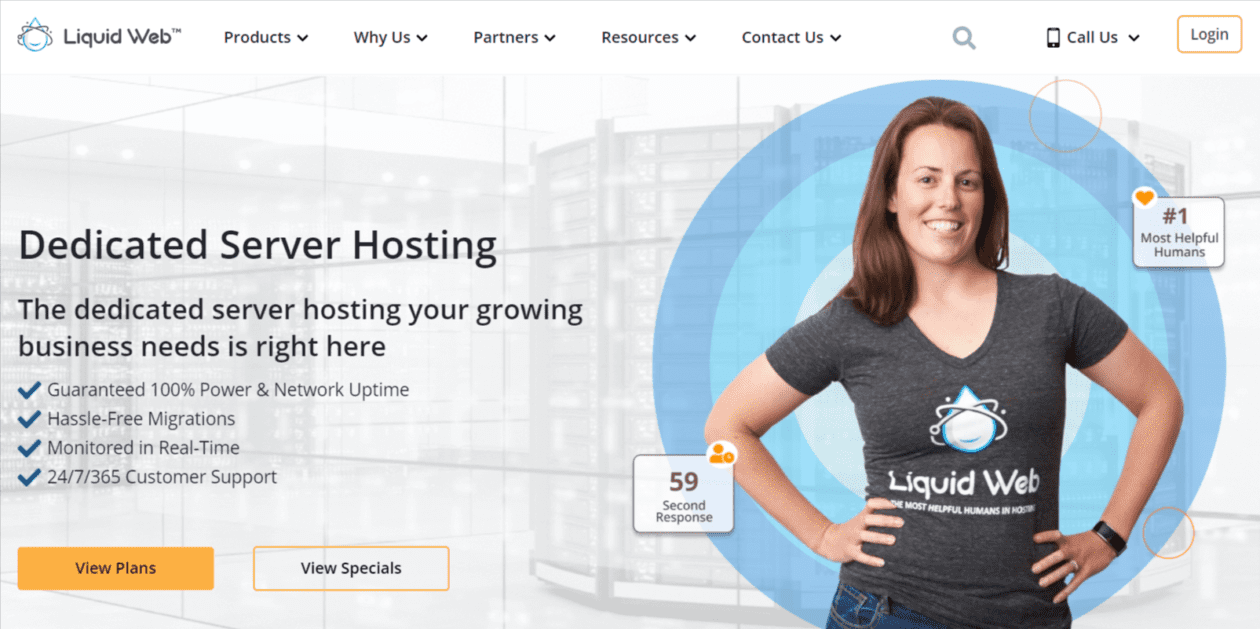 Dedicated servers are the powerhouse of web hosting solutions. They stand out in terms of performance and control.
A dedicated server is an exclusive hosting solution that allocates an entire physical server to a single user or organization. Unlike shared hosting or VPS hosting, where resources are shared among multiple users, a dedicated server grants unparalleled power, security, and customization options to meet the unique requirements of businesses.
Over the years Liquid Web's Dedicated Hosting has proven to be an excellent choice in managed dedicated server hosting. With a steadfast commitment to delivering top-tier solutions, the company owns and operates five state-of-the-art data centers in the US and Europe, strategically positioned to ensure optimal performance and security.
With allocated RAM and bandwidth that surpass its competitors, Liquid Web's Dedicated Server sets a benchmark, offering customers a generous and high-speed environment. Site owners can adapt their servers at any time by upgrading RAM and disk size to meet specific demands.
To optimize performance, Liquid Web integrates premier providers like Level 3, Verizon, Comcast, Cogent, and Equinix into their network. This strategic collaboration guarantees rapid and fault-resistant performance, elevating the hosting experience to new heights.
The different customizable dedicated server options offered by Liquid Web include:
Choice of Hardware: Liquid Web provides a selection of enterprise-grade hardware options, including CPUs, RAM, and storage, enabling you to build a server that meets your precise performance requirements.
Operating System Flexibility

: You have the freedom to choose from various operating systems, such as Linux distributions or Windows Server editions, ensuring compatibility with your applications and software.

Control Panel Options

: Liquid Web offers multiple control panels, including cPanel and Plesk, giving you an intuitive interface to manage your server, domains, and databases effortlessly.

Managed Hosting: For businesses seeking a hands-off experience, Liquid Web offers managed dedicated server hosting. Their team of experts takes care of server management, security, and performance optimization, allowing you to focus on your core business.
Pros:
Full Control: You have complete control over the server's configuration, allowing you to customize it to your specific needs.
Scalability Without Compromise: Liquid Web's customizable dedicated servers are designed to scale with your business. As your needs evolve, you can easily adjust resources, ensuring seamless growth without compromising on performance.
Budget-Friendly Solutions: Contrary to the misconception that dedicated hosting is cost-prohibitive, Liquid Web's customization options allow you to match your server specifications to your budgetary constraints, making it an affordable solution.
Resource Optimization: By tailoring your server to your specific requirements, you optimize resource allocation, eliminating wasted resources and maximizing efficiency.
Performance-Tailored Applications: Customization enables you to fine-tune your server environment for optimal performance of your unique applications and workloads.
Security Fortification: Dedicated servers offer a heightened level of security, protecting your data and applications from potential threats. With no other users sharing the server, the risk of security breaches is significantly reduced. Besides, you have full control over security protocols and can implement additional measures for added protection.
Predictable Performance: Unlike shared hosting, where traffic fluctuations of other websites may impact your performance, a dedicated server ensures consistent and predictable performance for your website.
Cons:
Cost: Dedicated servers come at a higher price point, making them suitable for large-scale websites or applications with high traffic and resource demands.
Technical Expertise: Managing a dedicated server requires advanced technical knowledge or a team that can handle server administration tasks.
Recommended: 10 Top SEO Mistakes to Avoid As a Blogger!
#3. Liquid Web VMware Hosting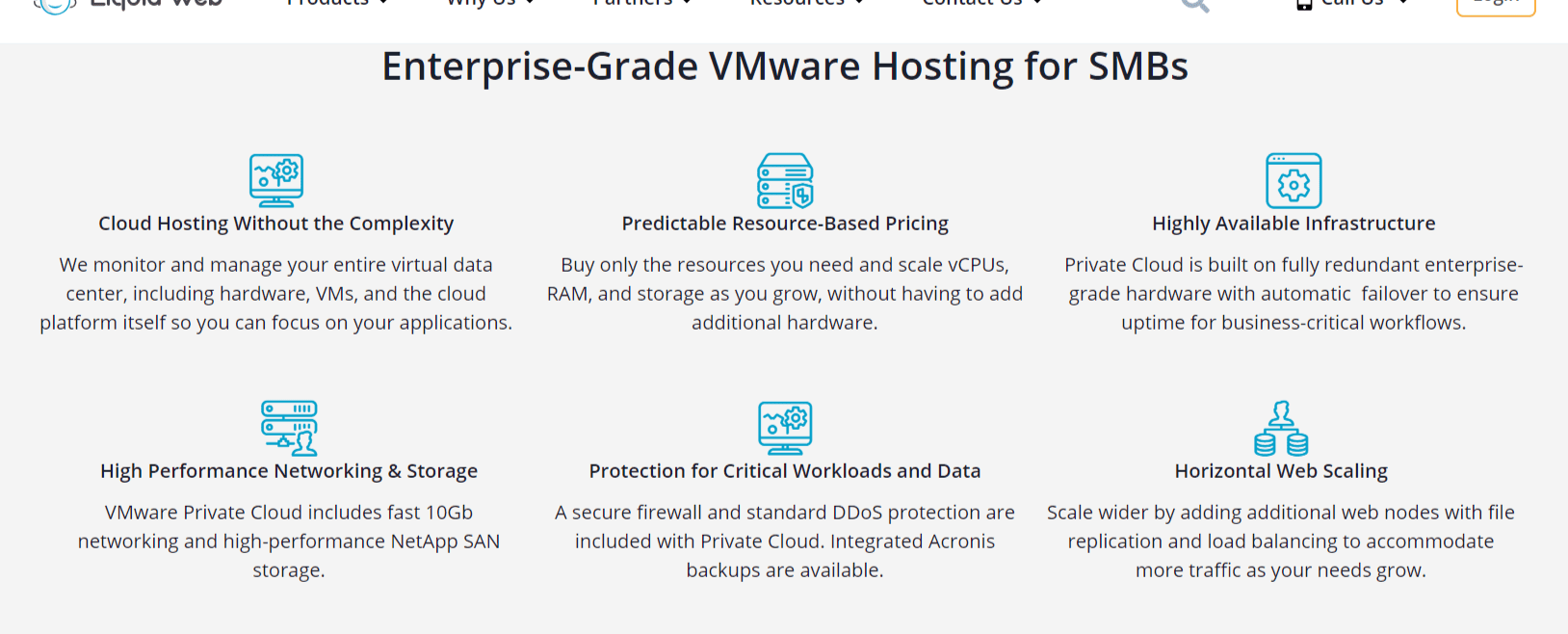 In today's rapidly evolving digital landscape, businesses require flexible, scalable, and secure hosting solutions to stay ahead of the competition. This is where VMware hosting has emerged as a game-changer.
VMware hosting offers cutting-edge virtualization technology that empowers businesses to optimize their infrastructure and achieve unparalleled performance. It leverages virtualization technology to create multiple virtual machines (VMs) on a single physical server.
Each VM operates independently, emulating dedicated servers while sharing the underlying hardware resources. This innovative approach provides businesses with the agility to scale resources, streamline operations, and enhance overall performance.
As a leading hosting provider, Liquid Web excels in delivering top-notch VMware hosting solutions that cater to businesses of all sizes. Liquid Web's VMware hosting services are engineered to meet the unique needs of modern enterprises seeking exceptional performance and reliability.
Liquid Web's VMware Hosting offers a seamless transition for businesses looking to adopt the cloud. The platform empowers organizations to start with the resources they currently require and effortlessly scale as their needs grow. Unlike traditional hosting models, Liquid Web's VMware Hosting does not impose per-VM fees, allowing businesses to deploy as many VMs as their available resources permit.
Pros:
Fault Tolerance: VMware's architecture provides built-in redundancy and fault tolerance, ensuring high availability for your applications.
Seamless Migration: With VMware's VMotion technology, you can easily migrate VMs between physical servers without any downtime.
Flexibility and Scalability: VMware's virtualization technology enables seamless resource scaling and flexibility, accommodating business growth and fluctuations in demand.
High Performance: VMware hosting leverages cutting-edge hardware and SSDs, ensuring exceptional website performance and minimal downtime.
Isolation and Security: Each VM operates in isolation, enhancing security and protecting sensitive data from potential threats.
Disaster Recovery: VMware's built-in disaster recovery features provide businesses with reliable backup and recovery options.
Cons:
Complexity: Setting up and managing VMware infrastructure can be complex and may require a certain level of technical expertise.
Cost: VMware hosting tends to be costlier than traditional VPS solutions due to the advanced features it offers.
Liquid Web VPS, Dedicated Server, and VMware Compared
| | | | |
| --- | --- | --- | --- |
| Features | VPS Hosting | Dedicated Server | VMware |
| Rating | 4.8/5 | 4.9/5 | 4.7/5 |
| Starting Price | $59/mo | $169/mo | $510/mo |
| Memory | 2 GB – 16 GB | 16 GB – 512 GB | Custom |
| CPUs | 2 vCPUs – 16 vCPUs | 4 – 16 Cores | Custom |
| Storage | 40 GB SSD – 200 GB SSD | 240 GB SSD – 15 TB SATA | Custom |
| Management | Fully Managed | Fully Managed | Managed |
| Control Panels | cPanel, Plesk, InterWorx | cPanel, Plesk, InterWorx | cPanel, Plesk, InterWorx |
| Root Access | Limited | Full | Limited |
| Scalability | 1-Click Scaling | Custom Solution | 1-Click Scaling Up |
NOTE: Some features, like price and customization options, may vary based on specific requirements and packages.
How Do I Choose a Good Web Hosting Company?
Selecting a reliable web hosting company is of utmost importance for the overall success and performance of your website. Your hosting provider plays a fundamental role in ensuring that your website remains accessible to visitors, loads quickly, and stays secure. To make an informed decision, consider the following key factors:
Reliability and Uptime: Website downtime can result in lost visitors and potential revenue. Look for a web hosting provider with a solid reputation for uptime, typically expressed as a percentage (e.g., 99.9% uptime guarantee). This ensures that your website remains online and accessible to users at all times.
Speed and Performance: Website loading speed directly impacts user experience and search engine rankings. Opt for a hosting company that utilizes modern server technology and offers features like content delivery networks (CDNs) to distribute content faster to users across the globe.
Customer Support: Efficient customer support is crucial, especially when technical issues arise. Choose a hosting company that provides multiple support channels (such as live chat, phone, and email) and has a reputation for responsive and knowledgeable support staff.
Scalability: As your website grows, its resource needs may increase. Ensure your chosen hosting provider allows easy scalability, enabling you to upgrade your hosting plan or resources without hassle when necessary.
Security Measures: Website security is paramount to protect your data and your visitors' information. Check if the hosting company offers features like SSL certificates for encryption, firewalls for protection against malicious attacks, and regular backups to safeguard your data.
Control Panel: A user-friendly control panel, like cPanel or Plesk, makes it easier to manage your website, domain settings, databases, and other aspects of hosting. A well-designed control panel simplifies tasks, even for users with limited technical expertise.
Reviews and Reputation: Research the hosting company's reputation through customer reviews and testimonials. Positive feedback from current or past customers can indicate the reliability and quality of their services.
Data Center Location: The location of the hosting company's data centers can affect the website's loading speed for users in various regions. Choosing a hosting provider with data centers close to your target audience can improve user experience.
Price and Value: While price is a consideration, focus on the value you receive for the cost. Consider the features, performance, and support provided in each hosting package to ensure it aligns with your website's needs and goals.
Money-Back Guarantee: A money-back guarantee allows you to try out the hosting service risk-free. Check the provider's refund policy to understand if you can get a full or partial refund within a specific timeframe if you are dissatisfied with their services.
Add-on Services: Some hosting providers offer additional services, such as domain registration, website builders, or email hosting. Evaluate whether these extras are beneficial for your website and if they come at a reasonable cost.
By taking into consideration these factors you can make an informed decision that best suits your website's requirements. Good enough, Liquid Web's diverse range of hosting plans allows you to find the perfect fit for your hosting needs. It doesn't matter whether you desire the power of dedicated servers, the flexibility of VPS hosting, or the simplicity of managed WordPress hosting, Liquid Web has you covered.
Liquid Web Hosting Alternatives
As you have seen above, Liquid Web premium hosting packages do not come cheap. If you will rather go with an alternative to Liquid Web hosting, I will suggest you go for any of the following reputable options depending on your specific requirements and priorities:
Cheap VPS Hosting #1: Hostinger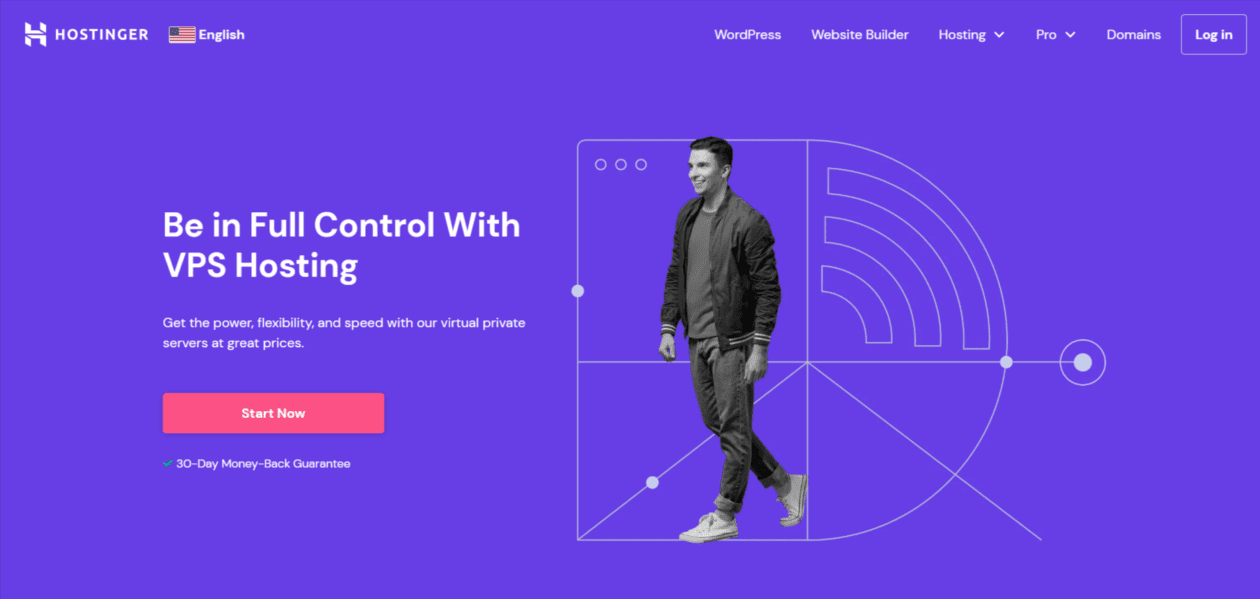 Hostinger stands out as an exceptionally dependable and cheap VPS hosting provider. Its VPS hosting comes in 8 different plans. The most budget-friendly option, named VPS 1, is available at a mere $5.99 per month. This package entails 1 CPU, 1GB RAM, 20GB SSD storage, and a bandwidth of 1TB. It suits scenarios such as small-scale online stores or blogs experiencing gradual growth in traffic.
With Hostinger's VPS hosting, you get a semi-managed VPS hosting service. This means you receive a custom VPS control panel and full root access. The control panel allows for easy OS and script installations, server reboots, and permission management through a visual interface while Hostinger takes care of the server launch and maintenance. The user-friendly auto-installer includes popular web scripts like WordPress, a truly great enhancement to Hostinger's VPS plans.
Cheap VPS Hosting #2: DreamHost
DreamHost is a highly renowned hosting service provider. While it may be well known for its shared hosting solutions, DreamHost's managed VPS hosting is simply exceptional. One of the features that make it stand out is the comprehensive backend support. This is great for those with limited technical proficiency.
DreamHost's managed VPS hosting comes in four plans. The most economical plan, available at $10.00 per month, offers 1GB RAM, 30GB SSD storage, unrestricted bandwidth, and an unrestricted count of email accounts, MySQL databases, domains, and websites on your VPS server. This makes it an attractive option for bloggers, small to medium-sized online stores, and membership sites.
DreamHost boasts a user-friendly proprietary control panel that streamlines the setup process, even for beginners. It takes on the responsibility of monitoring your servers and managing essential security patches and OS updates – tasks that would typically fall on you with a self-managed plan from other hosting providers. This makes DreamHost's VPS a good alternative for beginners who might require guidance when it comes to VPS hosting.
Cheap VPS Hosting #3: Bluehost
Bluehost is another provider of cheap managed VPS hosting. It has three VPS hosting plans with the lowest starting at $19.99 per month. This option, priced at $19.99 per month, offers 2 CPUs, 2GB RAM, 30GB SSD storage, and a bandwidth cap of 1TB.
Unlike Hostinger which is semi-managed, Bluehost's VPS plans are designed to be fully managed. This means that BlueHost handles both software and hardware maintenance while giving you extensive control through full root access. This notwithstanding, if assistance is needed, Bluehost's 24/7 VPS support is always available.
If you desire cheap VPS hosting that grants users full control over their VPS services while retaining the benefits of a comprehensive managed solution, then Bluehost's VPS hosting is your best choice.
FAQs on Liquid Web Hosting Reviews
Is Liquid Web a good company?

Liquid Web is a reputable web hosting company known for its reliable and high-performance hosting solutions. With a strong track record of excellent customer support and a variety of hosting options, Liquid Web is often considered a reliable choice for businesses and individuals looking for premium hosting services.

Why do I need a web hosting company?

 A web hosting company is essential for making your website accessible to users on the internet. When you create a website, all its files, data, and content need to be stored on a server connected to the internet. A web hosting company owns and manages these servers, ensuring that your website remains online 24/7 and can be accessed by anyone worldwide. Additionally, hosting companies provide technical support, security measures, and various features to enhance your website's performance and user experience. Without a web hosting company, your website would not be available to the public.

Is VPS good for web hosting?

Absolutely! Virtual Private Servers (VPS) are a fantastic option for web hosting. They strike a balance between shared hosting and dedicated servers, giving you more control, resources, and flexibility than shared hosting while being more affordable than dedicated servers. With a VPS, you get your own virtual environment, allowing you to customize settings, install software, and handle traffic spikes more effectively.

What's the difference between VPN and VPS?

It's easy to confuse these two terms, but they serve different purposes. A VPS (Virtual Private Server) is a type of web hosting that provides you with a dedicated virtual server within a larger physical server. On the other hand, a VPN (Virtual Private Network) is a secure tunnel that encrypts your internet connection for enhanced privacy and security. While both involve "virtual" components, a VPS is for hosting websites, applications, and services, whereas a VPN is for protecting your online activities.

Which company offers the best VPS hosting?

There are several reputable companies that offer excellent VPS hosting services, and the "best" one depends on your specific needs. Providers like Liquid Web, Hostinger, DreamHost, and BlueHost are well-regarded in the industry. Factors to consider include pricing, performance, customer support, scalability, and the features that align with your project or business requirements.

Where are Liquid Web servers located?

Liquid Web operates multiple data centers strategically located in various regions around the world. These data centers are situated in places like the United States (Michigan, Arizona), Europe (Amsterdam), and the Asia-Pacific region (Australia). This global presence allows for better website speed and performance for users across different geographic locations.
Liquid Web Reviews: The Bottom Line
In this Liquid Web reviews, we critically looked at three of the packages offered by Liquid Web namely VPS, Dedicated Servers, and VMware hosting. Based on our test and other users' reviews, it is clear that Liquid Web's dedication to technical excellence, 24/7 expert support, and top-tier hardware and infrastructure make it a standout hosting provider in the market.
Despite its good points, Liquid Web is not geared towards beginners nor is its price budget-friendly for everyone. But, if quality and flexibility are your priorities, Liquid Web's offerings are worth the investment. For those looking for a balance between performance and affordability, we highly recommend Hostinger.
So, what do you think about our Liquid Web reviews? Have you tried any of these Liquid Web services – Virtual Private Servers (VPS), Dedicated Servers, and VMware hosting? Feel free to share your experience with us in the comments below.